[Nov 24 2014]
After scouring every website for every venue in the city (including a bar in Inglewood), I finally found a show to attend for our 14th anniversary. The Pumphouse Theatre was in its first weekend of a production of Fawlty Towers, essentially reenacting several episodes from the classic British comedy. Pumphouse had done a similar production in a previous year and it had been a great success, according to some web article I read. R has never seen the original show, but I had seen a few episodes somewhere in my youth and I had always been curious to go to the Pumphouse. My standard bike/run commute to downtown cuts right past the historic brick building, which supplied water to Calgary residents from 1913 to 1968. In 1972 it was converted to a community theatre and it has been pumping out quality dramatic works ever since.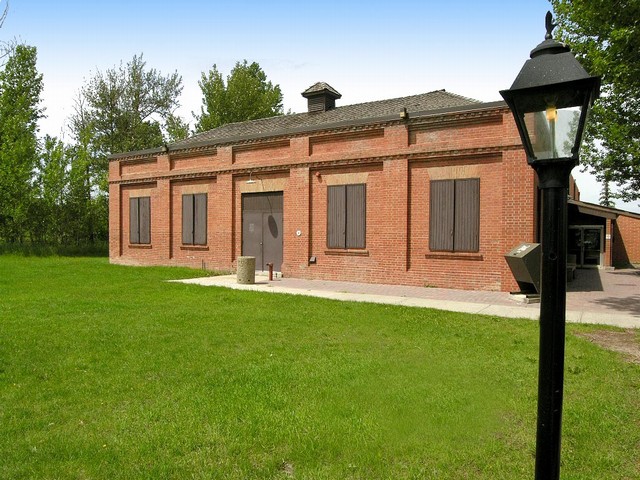 We planned to go to dinner before the 7:30 pm show, but time was going to be tight because the babysitter was coming at 6pm and we would need to get to the show a bit early to find decent general admission seats. I found that the Stadium Redwater Grille just off 16th Avenue was right along the way. Originally constructed as a McDonald's, this restaurant supplied Happy Meals to Calgary residents for decades until it was converted to a fine dining establishment, and it has been pumping out quality steaks and chops ever since.
It was a bit of a rush, but they got us in and out of the restaurant in under an hour and we made it to Fawlty Towers before it started. However, there were only a few seats left on the side the stage configuration meant that any seats on that side would have an obstructed view of the kitchen and dining room action. Fortunately, I have few reservations about asking favours and strangers, and people were willing to scoot over one seat to free up a pair of seats for us in the good section. It was blazing hot anywhere you sat. Perhaps they were too thorough when they restored the historic furnace.
Before the show even started, there was a mock scene where the actor playing Basil came out on stage and pretended to take a phone call from a man to talk about a planned wedding proposal. Suddenly, an audience member came through the doors at the rear of the stage and proposed to a woman on the front row. Things only went up from there. In fact, one of the episodes was called "The Anniversary." The show was great -- especially the lead character. He channeled John Cleese wonderfully without simply imitating John Cleese. Long, gangly arms used to maximum effect. Wonderful night.
The next day was our actual anniversary, but since it was a Sunday, we didn't go to any more pumphouse-McDonald's or anything. Instead, we ate dinner with the rest of the clan and my wife of 14 years managed to secretly create a fabulous chocolate mousse that pretty much everyone loves and we shared it together. Everyone there got to have some, but only my plate was hand-decorated with a cute anniversary message. R is the best. She always has some romantic trick up her sleeve.
Happy Anniversary!! I love you!! I also love mousse!!